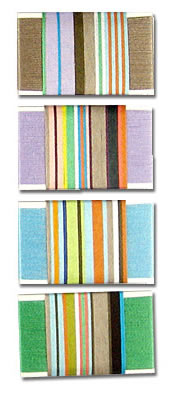 COLOR COMBOS forecast box color samples combos yarn skeins fabric samples
Color combos are hot 'color keys' for the future. They are handmade in the studio and are unique for LA COLORS from AMSTERDAM.
Combos are prepared with yarns in so-called 'windings'. These windings form recipes for all your design work in color. Whether it is for prints or knits, yarn dyes or for apparel.
Directly translated into shirting's, ties, stockings and socks or rugby shirts, each of them is an innovative pattern for new fabrics and products.
Each forecasting box carries 48 handmade windings to inspire you with your color works. All windings are made with the 48 new colors in the box. Each shade of all the color palettes is used once as a base color, and in other windings as an accent color.

Turquoise is only the delicious Italian swimming pool blue as long as there is some bright orange next to it. Orange makes the blue more blue.
Combos show the art of working with color in contrast, harmony, ton-sur-ton, faux-camaieux and in various materials and structures. Designing combos is like cooking: beige for the cake base, bright red for the cherry on top.
Creating color combinations is what made LA COLORS from AMSTERDAM famous during the past 27 forecast boxes. It is our signature color tool for the industry, made by hand, in real colors and in real yarns.