COLOR SAMPLES forecast box color samples combos yarn skeins fabric samples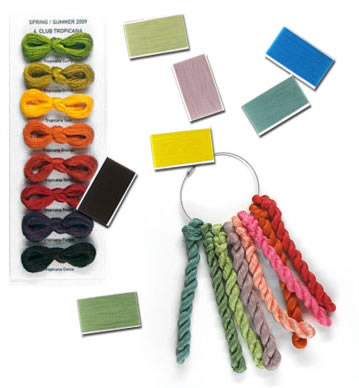 Trend colors are real colors. They are dyed in real material: mercerized cotton yarns.
Not without reason. Textile producers all over the world need textile colors to work with. Not paper colors. Not printed colors. They need real colors in real textile materials.
Cotton is an excellent material to work from. The mercerization process gives our yarns just that little bit of extra clearness that makes life easy for your dye-masters and textile producers around the world.
The trend colors in the Forecast Box come in various ways:
in handmade 'butterflies' on the color charts
in solid 'windings'
in regular size yarn skeins
Each regular yarn skein measures about 100 meter of yarn.
All colors are dyed in Italy according to environment rules and regulations.

All colors can be re-ordered in regular size skeins and in Jumbo skeins.(5 x as big as the regular size skeins).